One of the three right angles of a triangle
Use the earth's curvature to draw a triangle with three right angles.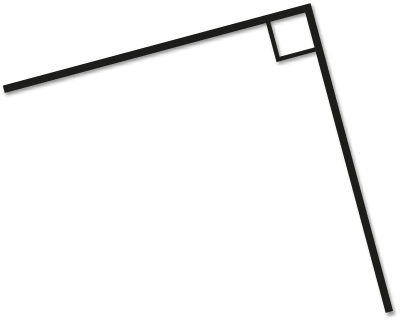 Sculpture on the ground
— black finish steel and rubber pads
— 2×2m
— unique work
— october 2012
Coordinates of the two other angles
— signage of the place
— variable dimensions
An in situ occurrence of the work can be exhibited independently, using adhesive tape.
Public presentations
—3 november 2012
Galerie Gourvennec Ogor

— HAPPY HOURS
31 mai - 2 aout 2014
— DISTANCES exhibition
14-18 november 2012
Tenjinyama Cultural Plaza
Okayama Prefecture — Japan
---
Un des trois angles droits d'un triangle
Utiliser la courbure de la Terre pour tracer un triangle à trois angles droits.
Sculpture au sol
— acier finition noire et patins en caoutchouc
— 2×2m
— œuvre unique
— octobre 2012
Coordonnées des deux autres angles
— signalétique du lieu, cartel...
— dimensions variables
Une version in situ de l'œuvre peut être exposée indépendamment, en utilisant de la bande adhésive.
Présentations publiques
— le 3 novembre 2012
Galerie Gourvennec Ogor
— HAPPY HOURS
31 mai - 2 aout 2014
— Exposition DISTANCES
14-18 novembre 2012
Tenjinyama Cultural Plaza
Okayama Prefecture — Japon